Because of the etymology of the word "Trencavel" ("Cut throughout"), medieval fencing is, as one could say, our spear-head! Indeed, fencing activity, training and showing of this art is the foundation of our association based on research in authentic sources of the Middle-Ages. We're training ourselves every fifteen days in our training room and polishing up our battle technics. We are practising several types of fencing:

Fencing show:
Choregraphies are rehearsed and carried on during our festivals for your pleasure. But, here, it is more a "historical show" than fighting fencing. We less and less practise this type of fencing; prefering pure historicity and "touch" fencing.

..........................
Jousting fencing :
Here, we can speak about real fight or "instinctive fencing". And you will understand that there is a bigger risk. Trencavel Company works on fencing treaties, especially the "I33" one, so as to be the nearest and most historical as it can.
.............................
Mêlée :
Another more historical and real practise of fencing is indeed fencing in the context of a conflict. Here, it is a unified, compact and offensive group which is ready to attack its ennemies. These fights in groups are trivially called "mêlées". We also practise the art of fight formations to attack.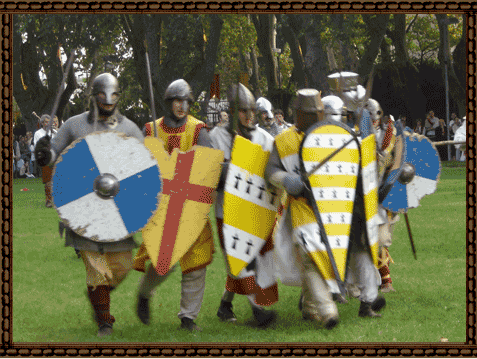 ......................................
Bowmen:
The company's bowmen will make you shake with terror through their explanations about their activities. Indeed, our longbows use more than ten different arrows; each of them can lead you to extreme pain and/or death..
...................................
Other kinds of fights:
We do not practise only the sword's art but we're also interested in other kinds of arms and their use: axe, mace, beam, hammer...